In my spare time I do a lot of volunteer work and one of the organizations I volunteer with holds it's meetings in an office building that is as close as I've found to a WiFi dead zone.  There are three wireless networks available and all of them are secured (two of them are 2-Wire access points).
To make matters worse, I only get two bars of cell coverage there as well, but as it turns out – that's enough.
A lot of my co-workers have higher-end HTC mobile phones and a few had gotten into ROM and registry hacking to accomplish various feats. The most impressive to me was cell phone tethering.
I have an unlimited data plan with my provider for a few extra bucks per month, but if I wish to use that unlimited wireless data with my Tablet PC or desktop they insist on selling me hundreds of dollars of extra hardware, $50/mo. in extra service charges, and a 5GB cap on the amount of service I use. All for the pleasure of a bigger keyboard and monitor.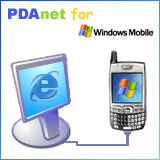 Luckily a company named June Fabrics has created an app called PDAnet for Windows Mobile devices (they also have versions for PalmOS and iPhone based devices). It costs about $34 and allows users to use their cell phone as a wireless modem so that they may extend their existing wireless data plan to laptops or even desktop machines.  In my case, at an EvDo (Rev. A) connection at 2.4 Mbit/s downstream. Plenty for checking email, browsing the web, and IM.
The best part was the ease of use. Simply install the software and connect the phone to a USB port. The phone automatically connects and displays a message on your PC indicating that the connection is ready. Just click and you're online.
This should go a long way toward increasing my productivity at meetings and we're even looking at the possibility of video conferencing with a committee member that has mobility issues.
If you have a Windows Mobile, PalmOS, or iPhone device and an unlimited data plan, I'd advise trying PDAnet to see if it can fill in some coverage gaps for you.
UPDATE: A friend pointed out that Steve Harman has tested an approach that uses Internet Connection Sharing (ICS) included on his phone to avoid the need to purchase any software at all. His work was on a Blackjack II with AT&T service.
Technorati Tags:
Windows Mobile
,
WM6.1
,
PalmOS
,
iPhone
,
PDAnet
,
June Fabrics
,
Mogul
,
Sprint
,
Verizon
,
HTC
,
6800
,
cellular modem
,
teterhing
,
bluetooth
,
mobile broadband